By: Clare Hazel R. Tabernilla
The Institute of Weed Science, Entomology and Plant Pathology (IWEP) conducted a training titled, "Mango Production and Management for GAP Certification" last May 19 via Zoom. The training aimed to equip participants with basic knowledge and understanding of the agronomy, postharvest handling, insect pest and disease management, and insecticide pesticide management in mango crops, as well as the requirements for Good Agricultural Practices (GAP) certification for mango farms. The training was attended by technical and marketing team members of Corteva Agriscience, Inc., an agricultural, chemical, and seed company.
Several topics related to the objectives were presented. Serving as resource speakers were Dr. Celia dR. Medina, Dr. Fe M. dela Cueva, Mr. Pee-jay A. Rejuso, Ms. Jena Joy G. Apolinario and Prof. Johnrell R. Zuniega of CAFS, UPLB; Dr. Emma Ruth V. Bayogan of UP Mindanao; and Mr. Yondre I. Yonder of Bureau of Plant Industry-Guimaras.
On his message, Corteva Agriscience, Inc. Country Managing Director Deepesh Sharma reiterated the importance of the training especially in line with the company's endeavors. He stated that the expectation is not for the participants to be experts, but for them to have a sufficient understanding of mango production and management.
IWEP is expected to coordinate another batch of training and a series of other activities related to pest management.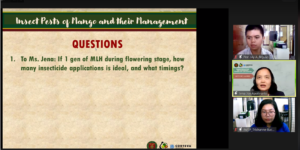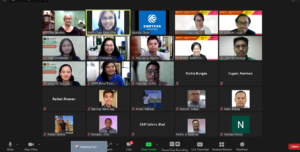 Resource speakers Mr. Rejuso (above) & Ms. Apolinario (middle) answer questions from the partcipants.